| | | |
| --- | --- | --- |
| " | Bountiful and Thriving. Living down here in this hovel is not a life. You deserve better than this. You cannot wait anymore. You must move forward and find your new purpose. Follow me out of here and we will find that purpose. Now, how the hell do we get out of here? | " |
Nydar
is the
Mind
Science officer of the
Avalon
under the command of
Lucy Bard
. He is played by
Ray Utarnachitt
.
Like many vassal species, Nydar secretly dreams of one day freeing his people from the yoke of the Brightest Eye. In the meantime, he serves as an effective science officer, using his psychic powers to advance the mission of the Avalon.
Biography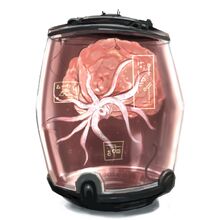 The Mind are an ancient species of jellyfish-like creatures found on one of the Core Cluster Systems of the Eye. Nydar is here for many reasons. Not the least of which is the hope to return again to its home planet of Mindworld with the tools and weapons to ensure the Mind will never be subjugated again.
Following the events surrounding the rollback of the Slate, and Visionary Destroyer's battle with The Mother, Nydar had a new "tank" built for him by his friend Hans. The new exo-suit has arms on each side, and includes technology for scanning. The electric prod on his old tank has been replaced with a new non-lethal Ta'al Klee laser. The exo-suit also replies to commands using Hans' voice.
Exo-Suit Features
Ta'al Klee Non-Lethal Laser
Scanners
Arms
Lights
Skills
MERITS


Biohack: Telepathy


Control
Danger Sense
Hypnosis
Liar Liar
Telepathy


Tolerance for Chaos
Behind the scenes