| | | |
| --- | --- | --- |
| " | Wait, hold on a second. So, I get on this ship, I somehow become the sober one, you guys get drunk, and now you're also on board for hacking this ships. Guess I have a bigger effect on people than I thought. | " |
Rayk Yikjaal Muur
is
Kiraeyi
mercenary and a pilot. He is the brother of
Louvin Yikjaal Muur
. Rayk is portrayed by
Jeff Torres
.
Biography
The only ugly duckling in a culture obsessed with beauty, Rayk grew up with a chip on his shoulder. A fast talking rogue who will go the distance for that next dollar or his twin sister, Louvin, Rayk has managed to become one of the best pilots for hire in the galaxy.
Rayk joined the Avalon as a mercenary after he was recruited by Captain Bard. At that point he had not spoke with his twin sister Louvin in over three years.
Rayk had a physical condition known as entheogenic synesthesia - whilst under the effects of drugs or alcohol his senses blur together, giving him a heightened awareness and skill. As a result of having this condition, Rayk always kept alcohol on his person.
After being observed drinking on the bridge of the Avalon whilst on duty he was reprimanded by Captain Bard and given an alternative by the Pac-Ha - leave the Avalon or undergo a "Correction" for his alcoholism. Rayk chose to remain on the Avalon and undergo the procedure.
Whilst locked in his room for an indeterminate number of days, Rayk was bombarded with genetic altering rays. As a result, his body no longer processes alcohol, meaning it has no effect on him - he can no longer get drunk.
Since undergoing the "Correction", Rayk has been distrustful of the Pac-Ha. With help from This Might Be a Good Idea, Rayk create a worm in the Pac-Ha systems to find out what they did to him. After finding out, Rayk further delved to try and find a way to undo the "Correction".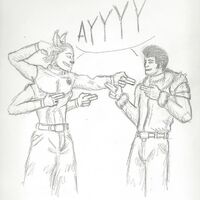 During the events on Thoreceus, Rayk made a number of mistakes which almost cost the lives of a great number of child Ilatim. The guilt from this affected Rayk greatly, and after the event he spent a lot of time in a simulator trying to improve his piloting skills.
Rayk has developed a close relationship with Noble Defender. As both of them are pilots, they have a common skill set over which they bond. When they first met on Cyryn 7-20, Rayk socially disarmed Noble Defender with pheromones and finger guns. Since then, both shoot finger guns at each other in recognition of their friendship.
Notable Possessions
Skills
MERITS


Assassination


Contacts
Entheogenic Synesthesia
Fast Reflexes
Flying Ace
Hacking
Pheromones
Sibling Connection


Smuggling