Tkaah is the Limb security officer from the Brightest Eye. She is played by Jody Houser.
Biography
Forcibly recruited from her occupied planet, Tkaah hates space and is determined to do whatever it takes to survive long enough to get home. Her many limbs and natural agility make her a swift and dangerous combatant.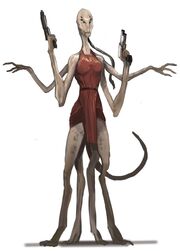 Tkaah came to prominence a year after she had been assigned to the
Obliterating Fire
. She had been caught as the leader of a vassal rebellion of two hundred Limb on board the ship. She was taken to an airlock where she spoke with the ships commanding officer,
Partisan Teacher
.
Whilst speaking to her, Partisan Teacher noted that she had survived for over a year as a 7th tier Limb at the job of reloading the ships burn cannons, a job that usually reduces the life expectancy of a limb to only a few months. He asked her why she wanted to serve the Brightest Eye. Tkaah responded that she didn't, and all she wanted to do was return to the trees of her home world. She didn't recruit the Head Limb into her scheme as she thought he was weak.
Partisan Teacher thought Tkaah was interesting and made her and offer: the job of Head Limb aboard his ship and a promise she would see her home again. If she refused, no Limb on board the Obliterating Fire would see their home again.
Tkaah took the captain up on his offer, and as a reward he presented her with a present: the former Head Limb - an older and particularly subservient Limb. Frustrated by the Limb's weakness, she attacked him with her fists, eventually killing him. His last words as she pummelled him were "The Eye Shines Bright".
Prior to being assigned to the Obliterating Fire, Tkaah fought alongside Partisan Teacher, Infinite Seeker and Noble Defender during the Battle of Farmworld. At this time she did not give her name, being only referred to as 'The Limb'.
Whilst on Farmworld, Tkaah did not think very highly of he who would be her future captain. When she was posted on the Obliterating fire and she saw the Captain was 'THAT shmuck', the seeds of rebellion started growing.
Skills
MERITS


Athletic Dodge


Fame
Fast Reflexes
Gunslinger


Listen
SKILLS - MENTAL


| | |
| --- | --- |
|   | ACADEMICS |
|   | COMPUTERS |
|   | FIELD ENGINEERING |
|   | INVESTIGATION |
|   | MEDICAL |
|   | XENOANTHROPOLOGY |
|   | POLITICS |
|   | SCIENCE |
Behind the scenes
Jody describes Tkaah as if Daria was a 'space spider ninja thing'. She likes characters who are in space that don't want to be in space and that have to deal with being in space.